The build quality and technology of a home theater contributes only 50 percent of the goodness of the user experience; in fact, the other half of the sky depends entirely on the quality of the source audio-video source.
Audiophiles are always very careful to source the best possible audio source, and to achieve the goal all they need to do is obtain an uncompressed, high-bitrate version of the desired content. But with video, things get pretty complicated. An hour of uncompressed 4K movie, in fact, comes to occupy between 80 and 110GB of space, and requires very efficient and high-performance disks, connections and processing capabilities. That is why, as far as video is concerned, the situation is much more fragmented.
In general, there are three different types of sources:
Online Streaming: Services that offer real-time content accessible through an Internet connection such as AppleTV+, Netflix, and Amazon Prime Video.
Physical Support: Discrete discs that fit into an optical media player, namely DVD, Blu-ray HD and its version on steroids Blu-ray, the Ultra HD.
Offline Streaming: In this case, the content is downloaded from the Internet but playback takes place locally, and cannot start until the movie download is completed.
Among physical media, the best quality currently available is found on 4K Ultra HD Blu-rays. In general, streaming services such as AppleTV+, Netflix and Amazon Prime provide much higher quality than DVDs and often (with newer content) than Ultra HD Blu-rays as well. However, they are strictly dependent on line quality and bandwidth-in other words, without an adequate fiber or fiber/copper connection, quality is dramatically reduced.
Online Streaming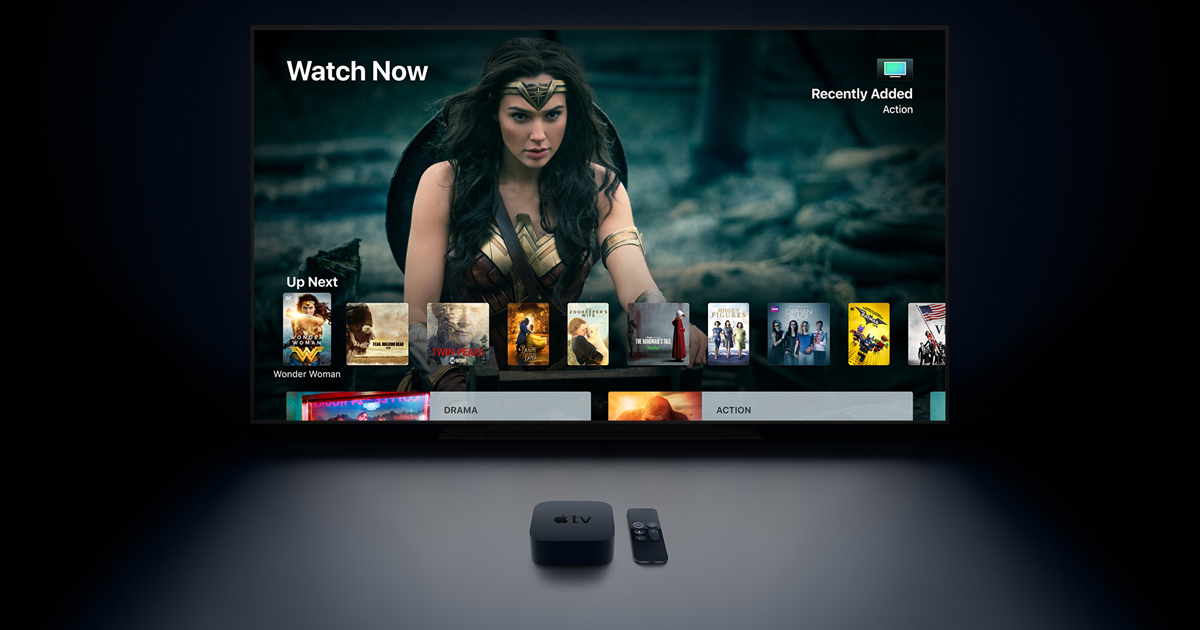 The term "online streaming" refers to an audio or audio-video content that is enjoyed by downloading data directly from the Internet, in real time. It is an extremely more elegant and convenient solution than the traditional media player. It does not require the prior purchase of a physical disk or a dedicated player; it is instantaneous (the moment you want to see a content, you can see it), it can be enjoyed on your cell phone or tablet, plus it is reasonably inexpensive, but it also has drawbacks.
Without Internet, for example, no Home Cinema Night; and if the connection is not adequate, the quality will also be scaled down accordingly. Finally, streaming movies tend to be more compressed than those on 4K Ultra HD Blu-ray, especially the audio part. A limitation that will undoubtedly be overcome as the speed of home connections improves (4K UHD streaming content with Dolby Atmos can already be found today), but until we all have a fiber connection, that is.
Moreover, where with DVD and Blu-ray one physically acquires possession of an object that remains one's property forever, in the case of AppleTV+ or Netflix's intangible rentals, one acquires only "the license to play." In other words, once the subscription runs out, one can no longer access the content.
There are currently several online streaming providers. Some, such as Apple, allow you to purchase individual content and watch it as many times as you want, forever; the model that is gaining popularity these days, however, is the subscription model: unlimited access to the entire catalog for a fixed monthly fee of around €5-15 per month, depending on the service and the quality chosen. The main competitors are:
AppleTV+: It is the streaming service with Apple. It is one of the cheapest-4.99€ per month and 12 months free if you buy a new Apple device-but it is also the one with the least content available. It must be said, however, that on the quality front (audio, video and content) it is really top notch.
Disney+: It offers mostly Disney-branded titles, but not only. There is also Marvel Cinematic Universe, unreleased TV series, all Pixar feature films and shorts, as well as the complete Star Wars saga, including some never aired TV series and animated series, and several National Geographic products. It costs €6.99 per month or €69.99 per year.
Netflix: With over 160 million subscribers worldwide, it has been the industry trailblazer, essentially creating for itself a market that was not there. It contains thousands of series, TV movies, documentaries, Anime and cartoons, plus it is constantly churning out new series and popular movies. It costs €7.99 per month for the basic version, €11.99 for the standard and €15.99 per month for the premium version (4K content).
Amazon Prime Video: It is not as well-stocked as Netflix, nor can it rely on the quality of Disney+ or AppleTV+, but it offers pretty good goodies. What's more, it's practically free; in fact, the entire catalog is accessible at no extra cost to Amazon Prime subscribers for €36 per year or €3.99 per month.
There are also other smaller providers, some specializing in very specific niches of the market. For example, NowTV, Sky's on-demand, provides access to its endless catalog at a very good streaming quality but has costs that are not exactly negligible; DAZN (recently in the news for transmission problems during the Inter-Cagliari and Verona-Lazio matches) and Eurosport Player specialize in sporting events, while Infinity draws on parent company Mediaset's catalog of exclusives.
Supporto Fisico
As mentioned, there are three physical media are based on optical disc. In order of audio/video quality we find:
DVD Player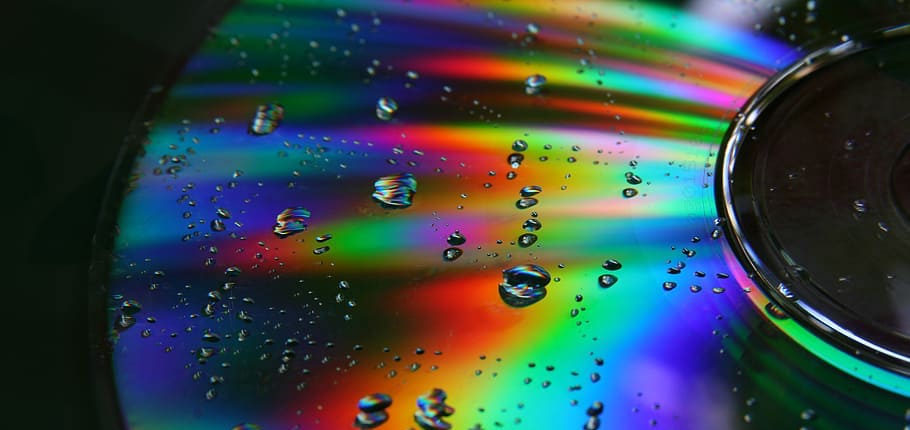 Although still incredibly popular, the DVD player constitutes a technology that is now largely outdated. In fact, the resolution of the video stream cannot exceed 720 x 480 pixels, which is twice the resolution of VHS; by way of comparison, suffice it to say that any modern-day 4K TV has a resolution of 4096×2160 pixels. The result is a video that is not very definitive, with washed-out colors and full of cubes in busy scenes.
Audio supports Dolby® Digital 5.1 and/or DTS, however, no Atmos. A single DVD disc can accommodate up to 2 hours of video, but the real revolutionary element compared to its predecessor was another: there was no need to rewind the tape at the end. It seems little, but we are talking about a medium that was born back in 1997 and which we therefore consider inadequate for the needs of a modern home theater.
Blu-ray HD

It is the successor to the DVD, and brings with it significantly superior features. It is based on blue laser technology that allows you to increase data density and squeeze up to 25GB of content onto a single-layer disk, or up to 50GB onto a dual-layer disk. It supports Full HD 1080p (1920 x 1080 pixels) or 4K UHD (3840 x 2160 pixels) at 24 frames per second, on MPEG-2, MPEG-4 AVC or VC-1 compression.
On the audio front, it supports PCM, Dolby Digital, Dolby Digital Plus. DTS, DTS-HD and Dolby Lossless(MLP). As a standard, it is used on PlayStations, media players, compact systems, PC drives, jukeboxes and portable players.
Its direct descendant is Blu-ray Ultra HD, an evolution that gives the state of the art of high definition on disc.
Blu-ray 4K Ultra HD

Ultra HD Blu-rays are the only existing media that can truly take full advantage of a modern 4K TV or home theater system. With support for 4K resolution, HDR, billions of colors and Dolby Atmos, they represent the ultimate in disc technology. And although a modern 4K Ultra HD Blu-ray player can read the previous Blu-ray HD, the opposite operation is not allowed for reasons of hardware compatibility; in other words, a simple software update is not enough.
Compared to Blu-ray, this standard offers significantly higher visual and sound quality: all content, to begin with, must be encoded in Ultra HD quality resolution (3,840 x 2,160 pixels) versus the Full HD of simple Blu-ray, which makes for perfect enjoyment on the latest generation of TVs and 4K projectors. But for even higher quality, several other technical stratagems are adopted:
HDR: It enables improved brightness and shadow detail through support for various HDR standards; the main ones are Dolby Vision (proprietary and closed) and HDR10 (free and open). HDR content generally offers exceptional detail in high and low light, as well as more vibrant and natural color rendition.
Much Colors: Support for BT.2020 enables Ultra HD discs to have many more colors than the previous REC709 used on Blu-ray and DVD. This translates into higher color fidelity. Provided you have a TV or projector that supports the feature

.

HEVC H2.65: It is a more sophisticated codec (encoder/decoder) than its predecessor H.264 that allows for more efficient and higher quality compression for the same amount of space; however, compared to its predecessor, it is also much more resource-hungry

.

Disk Space: To be able to handle all these features, a UHD Blu-ray can hold up to 66 GB on a dual-layer disk, and up to 100 GB on a triple-layer one (as opposed to 25-50 GB on older Blu-rays).
Audio: Support for Dolby Atmos andDTS:X encodings, make it possible to add a virtually unlimited number of speakers, and most importantly to "position" sound objects dynamically and independently of each other. This means that, without losing compatibility with traditional 5.1 or 7.1 soundtracks, it is now possible to make sounds move to and from the top as well, for a true 360-degree experience.
Connections: Because Blu-ray 4K Ultra HD implements HDCP 2.2 copy protection, it is necessary that all components used for enjoyment-the 4KTV, receiver, Blu-ray player, and even cables-are explicitly compatible. The interface of choice in this case is HDMI 2.1.
For the time being, it is difficult to predict whether there will be a further evolution of the Blu-ray standard. Theoretically, Panasonic and Sony would have already developed the next-generation format, called Archival Disc. It is a cartridge-protected disc capable of holding up to 300GB of data, but it is designed primarily for professionals, not consumers. Alternatively, there would be holographic laser technology that uses the simultaneous combination of multiple lasers to read and write data three-dimensionally on the disk to achieve significant storage capacities. But again, we are talking about technologies aimed at specific niche markets. For the time being, all the chips seem to be staked on online streaming-based fruition systems.
Offline Streaming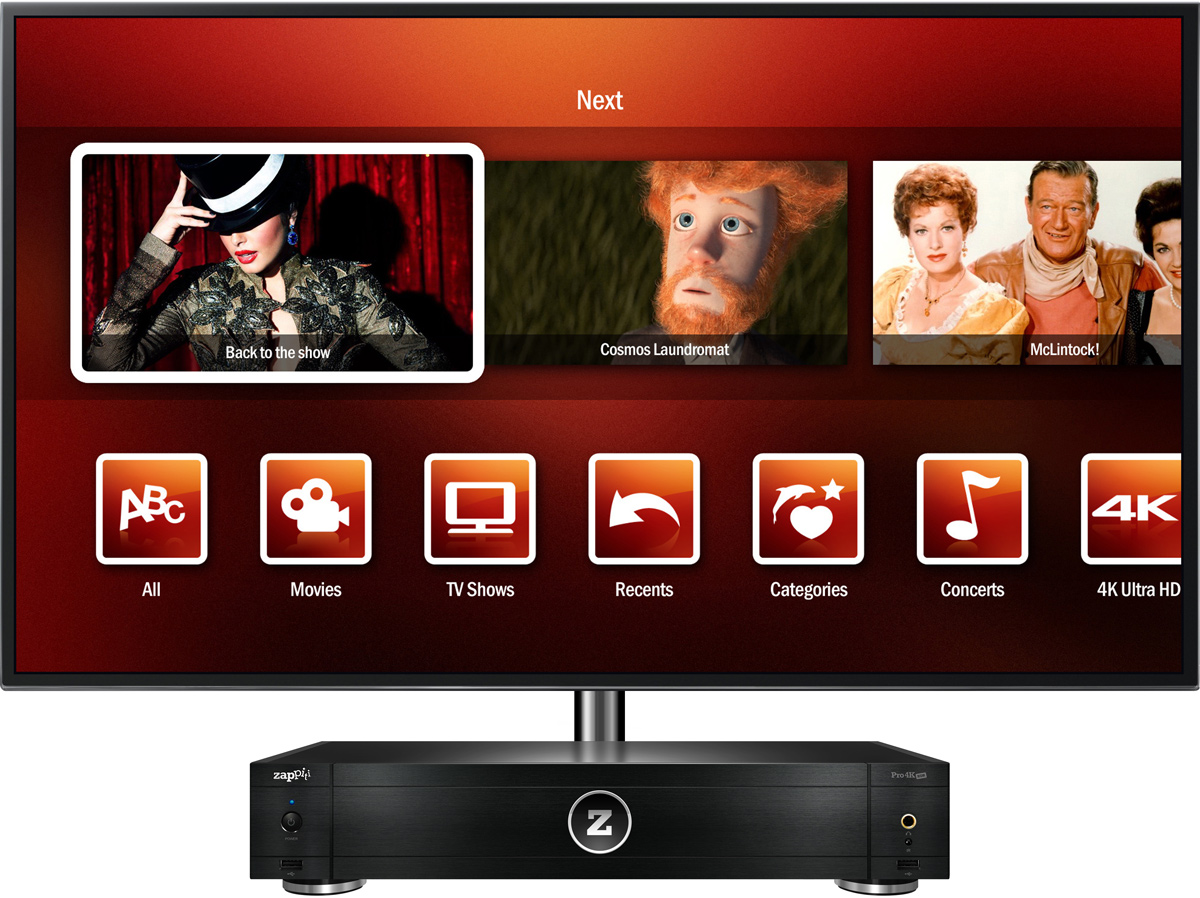 Where online streaming consists of watching a piece of content right as it is downloaded, offline streaming, on the other hand, requires you to finish the download before you can press play. This is the case with some of the less popular and more particular market solutions, which nonetheless may appeal to a certain type of user with special needs.
Let's say the case of a user who has many DVDs and Blu-rays, but did not want to find himself having to insert the disc into the player each time. He could rip them so he could keep everything in a local NAS system connected to a mediaplayer or computer. In this case, the choice of choice for the market falls to the French Zappiti, a brand of extremely versatile and powerful players, capable in good measure of reading any existing and future format.
Zappiti
This is a series of top-of-the-line Android set-top-boxes, with support for 4K-HDR, DTS:X, Dolby Atmos and automatic frame switching, equipped with many connections. The latest models easily read and play back 10-bit Ultra HD resolution video in HEVC or VP9 format up to 60Hz, or streams encoded with the most exotic combinations of audio-video codecs, including advanced technologies such as HEVC-H.265 or and Dolby TRUEHD/Atmos or DTS-HD.
The final quality is on average even higher than the original, thanks to proprietary MagicPixel technology that takes care of improving video quality through filters and the use of artificial intelligence.
Content can be uploaded to pendrives, hard drives or network drives, made available over WiFi or Ethernet: all major network protocols are supported, from DLNA to SMB (Windows and Mac), including FTP, AirPlay and ChromeCast.
The use of NAS enables the creation of redundant solutions that protect data integrity, and prevent loss of the content library even in the event of failure.