The HDMI (short for High-Definition Multimedia Interface) standard consists of a mixed audio/video interface that allows high-definition digital media streams to be transmitted without any compression or data loss. It is, very trivially, the most popular system of our days for connecting Blu-Ray players, consoles and Apple TVs to the Smart TV in the living room, or the projector in the living room.
And since the technology behind screens, projectors and set-top boxes is constantly evolving, similarly the HDMI standard is also constantly being updated to support all the new developments in the industry, yet never losing backward compatibility with the past. Here is what HDMI 2.1 is, how it differs from previous versions, what it is used for, and most importantly what features it supports.
Types of HDMI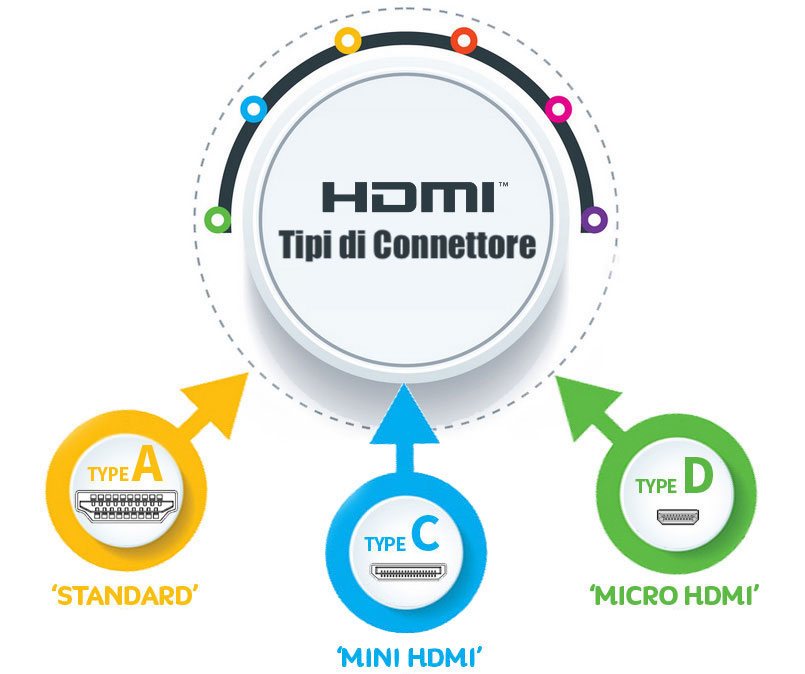 Developed in 2002 by a handful of companies, including Hitachi, Panasonic and Philips, HDMI quickly established itself as the successor to the old DVI. It is the world's most widely used connection for transferring audio and video streams with a single cable and in high definition.
To date, it is so popular that it is implemented in both professional and consumer settings to connect TVs, DVD and BluRay players, amplifiers, Xboxes, Playstations, Soundbars, AppleTVs, and so on. Many laptops and computers natively have this connection (sometimes the use of a specific connector is required), and because of this it has also become popular in education, business, and commerce, for both common presentations and video walls.
HDMI is extremely versatile, and can also be used in conjunction with other devices such as signal splitters, HDMI switchers, SoundBar eARCs, and even AV arrays in all contexts and in a scaled-up manner, including Home Entertainment.
There are 3 different connectors for HDMI, namely:
Standard Version (Type A): This is the most common type, and is found on most home and professional audio video devices. Usually, when people talk generically about HDMI, they are referring to this set of sockets and connectors.
HDMI Mini (Type C): Smaller, but uncommon type of connector.
HDMI Micro (Type D): It is the smallest variant of the HDMI connector in existence; it is starting to make its way mainly among smartphones and tablets, especially high-end, high-performance ones.
Advantages of HDMI
The main advantage of HDMI is its ability to carry a large amount of data (video, audio, 3D, and even Ethernet data), all with a single cable. This allows even very heterogeneous devices to be connected without going crazy with interfaces.
The main strengths of HDMI include:
Excellent video quality, high and very high resolution, with excellent contrast and saturation values.
Ease of use, convenience and immediacy.
By allowing devices to talk to each other, the AV system becomes modular and very intuitive; and most importantly, it can be controlled in each component with a single remote control.
Audio/Video Formats Supported
Any HDMI-equipped device must support at least the LPCM uncompressed audio standard; all other formats are technically optional, so-before any purchase is made-it is essential to verify upstream that the hardware you intend to use supports the same audio standards. Which are:
LPCM (da 2 a 8 canali)
Dolby Digital
Dolby Digital Plus
Dolby TrueHD
DTS
DTS-ES
DTS 96/24
DTS Express
DTS-HD High Resolution
DTS-HD Master Audio
DTS:X
DVD-A
DSD
Nowadays, many recent devices also support FLAC, ALAC, and WAV, but it is essential to first check the documentation of the devices you intend to chain together. Any limitations do not stem from HDMI per se, but rather from the design of the devices themselves.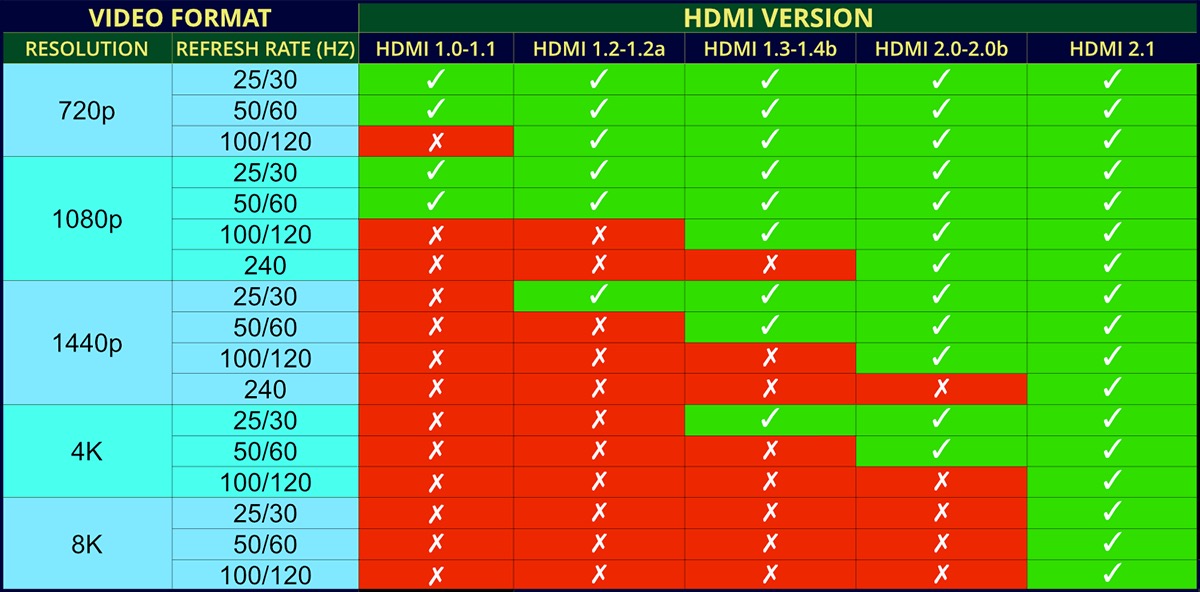 On the video side, however, new formats are added with each protocol update. For example, the first revision of HDMI (the 1.1) implemented support for DVD Audio. In the leap from HDMI 1.2 to HDMI 1.3, however, the bandwidth was greatly increased, plus 16-bit color, support for the xvYCC color standard and lip synchronization were added.
With HDMI 2.1, the latest revision of the standard, support was introduced for 4K at 100/120Hz refresh rates, 5K at 50/60/100/120Hz, 8K at 50/60/100/120Hz, and even 10K at 50/60/100/120Hz. Basically, we have projected into the future, since to date there are no consumer displays that can reach such resolutions.
Whenever HDMI specifications are updated and new video standards are added, the rest of the hardware-including cables-will also need to be updated before the new video resolutions can be taken advantage of.
Maximum Length of HDMI
There is a limit to the distance the HDMI signal can reach. In principle, a good quality HDMI cable will go up to 15-20 meters without difficulty. However, while an inexpensive standard Category 1 cable goes up to 5 meters, for longer distances it is absolutely advisable to use a Category 2 HDMI cable (which also supports 4k UHD, 3D, and Deep Color). And in any case, before starting with the masonry work in the room or with the final installation, it is always preferable to check that all devices-including video switches, splitters, etc.-work at the desired distances.
How do you choose the ideal length of an HDMI cable? Unfortunately, there is no simple answer to this question, because not all cables are the same, and the same applies to AV and home entertainment systems. However, there are a number of good rules to follow to achieve the best possible results. Specifically, the factors to keep in mind are:
At what resolution do you intend to broadcast? 1080p, HD, 4K UHD, 8K or 10K? As the resolution increases, the bandwidth required increases, and therefore the specifications of cables and AV devices also increase.
What is the distance to be achieved? One should always try to shorten the distance to the minimum necessary. A shorter distance corresponds to greater signal stability (and significantly fewer potential problems)
What additional features do you need? HDR signal or perhaps 3D? Or would you like to share an Internet connection through Ethernet over HDMI? Each of these features should be carefully weighed when designing the AV environment.
Need to transmit beyond 20 meters? In this case, also useful if you need to send multiple signals, HDMI may not be sufficient. You may want to consider implementing HDMI Repeaters or Extenders.
HDMI cable material? It is always advisable to choose models made of sturdy, durable material, preferably with gold-plated connectors that better resist oxidation and provide the full 18Gbps of HDMI 2.1. Braided nylon is recommended because it gives greater flexibility, and ease of movement in tight spaces.
What to do if an HDMI connection does not work?
Check that the connection is firm on both sides of the HDMI cable.
Try disconnecting and reconnecting the HDMI cable at either end.
Are all devices turned on? Has the correct HDMI port been selected with the remote control?
Try a different HDMI cable.
Perhaps the target device cannot support the resolution sent by the video output device. If possible, try changing the resolution.
If the distance that the HDMI cable needs to cover exceeds 10 meters, it may make sense to consider adopting an HDMI Signal Repeater or HDMI Extender.
What is eARC?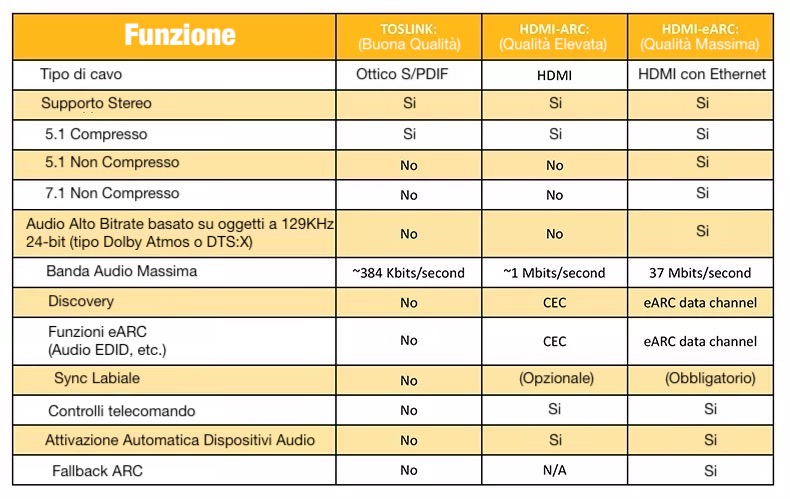 At one time, to transmit audio from satellite devices, set-top boxes, or consoles to an AVR or SoundBar, it was necessary to use a separate optical cable. With the introduction of HDMI ARC, however, the problem has been elegantly solved: the audio stream that previously required a separate cable now goes through HDMI. This ensures ease of connection for users, less space to accommodate cables, plus flawless audio without compromise.
HDMI ARC was introduced in 2019, with HDMI version 1.4; its evolution, which arrived with HDMI 2.1, is instead called eARC (Enhanced Audio Return Channel), and for this reason it is to be considered significantly superior in all respects.
Like its predecessor, it allows an audio signal to be transmitted at the highest original resolution through an HDMI cable and reproduce the best possible audio; compared to before, however, both bandwidth and speed have now been improved. This makes it possible to transmit audio streams from the TV to the SoundBar or audio-video receiver in full compliance with Dolby Atmos and DTS high-bitrate formats.
As a result, where previously audio compression techniques had to be used for 5.1 and 7.1, the stream can now be transmitted in its original format:
Funzione
HDMI ARC
HDMI eARC
Compresso 5.1
Sì
Sì
Non compresso 5.1
No
Sì
Non compresso 7.1
No
Sì
Bitrate elevato e basato su oggetti fino a 192 kHz, a 23 bit

(ad es. Dolby Atmos, DTS:X)

No
Sì
Obviously, and as already explained, in order to enjoy all the benefits of eARC, it is essential that all devices in the audio-video chain support not only this communication protocol, but also the same upstream and downstream audio formats; including the cable, therefore. Always make sure that the HDMI 2.1 cable is certified.
What to do if ARC/eARC does not work?
To begin, remove all external devices (STB devices, OTT devices, etc.) connected to the TV, and press play to start playback again.
Verify that the eARC port (the same port as ARC) is connected.
Verify that the audio-video device is compatible with eARC. It is possible that some external devices cause problems because they do not meet the HDMI/eARC connection specifications.
Verify that the HDMI cable is HEAC or HEC certified.
Try disconnecting and reconnecting the HDMI cable, then reset the HDMI-eARC mode to the video source.